The Answer to World Tragedies…
Today, I want to honor the events of the past ten days. We were already in a period of extreme uncertainty, but that has grown deeper and far more poignant.
I think we all feel "it" in our bones: The justice that has not been met. The wrongs that must be made right. It's overwhelming and can leave us feeling hopeless.
A few days ago, I was packing stacks of research materials that have been "piling up" for the last 18 months. These items -articles, books, notebooks, note cards- are artifacts from the social-emotional curriculum we recently authored.
When I lifted one particular stack, a single note card fell from the pile and landed at my feet…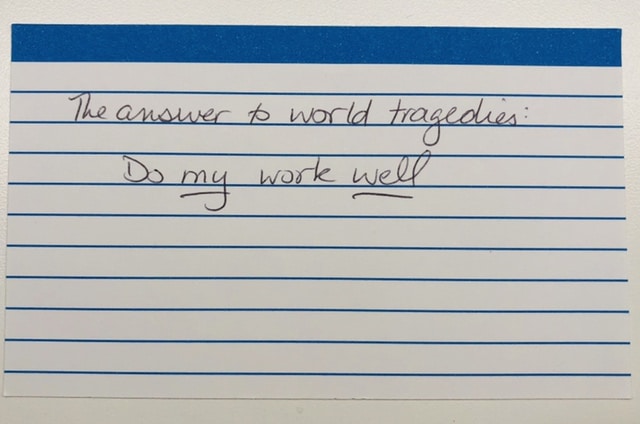 It's my writing, but I honestly don't remember seeing it before, let alone recall who/what inspired me to jot it down. But if ever there was a "right message" delivered at the "right time," it would be this!
This little phrase has since tumbled through my head a hundred times. As my mind spins with new thoughts and concerns (or the same thoughts and concerns…again and again), the one consistent place those thoughts land is back on this card.
As our world is in upheaval and everything seems wrong or upside down, one way we can all respond is by bringing the best of ourselves to everything we do.
Yes, there is more to be done. Those opportunities will reveal themselves to each individual, as well. Meanwhile, making an intentional commitment to do our best work may feel like "nothing." But it is a very REAL "something"… and it has never been more critical!
My prayers are with every single person impacted -directly and indirectly- by these events. May God bless us all.
Sincerely,
Susan
"How Do I Feel?"
Curriculum Kit
Get It FREE!
Includes the SOAR Feelings Wheel, Coping Cards, Full Lesson,
& Information on...



Delivering Student Skills in
Self-Awareness, Self-Management,
Social Awareness, & Responsibility
The most critical learning, organizing, and communication skills needed for school. Learn more here.